[Home Plan Pro] [Easy Mail ] [Easy Mail Plus] [Free ] [Home Page] [Custom ]
---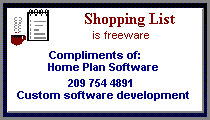 Shopping List
Try this quick, easy, and flexible way to make your shopping lists.
Saves and maintains lists of grocery items
Point & click or drag and drop items to quickly form shopping lists
Edit, add, and delete items and categories
Print shopping lists sorted by category or item
Save lists for re-use
---
Windows 10 compatible version 2.2.20.2
Install Shopping List forWindows 95/98/00/ME/NT/XP/VISTA/Win 7/Win 8/ Windows 10

View screen shots of Shopping List


Email to:
shoplist@homeplansoftware.com for information.
---
Shopping List is for you to use and distribute absolutely free.
It may not be sold.
---
[Home Plan Pro] [Easy Mail ] [Easy Mail Plus] [Free ] [Home Page] [Custom ]