[Home Plan Pro] [Easy Mail ] [Easy Mail Plus] [Free ] [Home Page] [Custom ]
---
Regi Dean's Recipes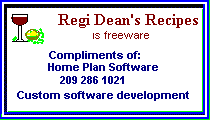 a
Windows 95/98/00/NT/ME/XP/Vista/Win 7/Win 8 & Win 10
program to store, search, print. and exchange recipes. It is friendly, easy to use, and comes with recipes loaded.
A full featured editor is included so you can embellish your recipes with formatted text and images before printing or saving.
Share and exchange your recipes with others using built in inport and export routines.
If you have an internet connection, you can download and import recipes automatically, using the Download menu.
Share your recipes! Paste your recipes in an email message or attach a file to:
---
Download
Regi Dean's Recipes
- ver 3.4.1 (1.1 mb)
View screen shots of Regi Dean's Recipes
View some recipes These recipes can also be imported directly from the program Download menu.
Email to: for information or to contribute recipes.
---
Regi Dean's Recipes is for you to use and distribute absolutely free.
It may not be sold.
---
See all our clean Software products
---
Software Informer Software Informer is a service for sharing information about programs installed on your PC
Try Raven Recipes Your online resource for Recipes!
---
[Home Plan Pro] [Easy Mail ] [Easy Mail Plus] [Free ] [Home Page] [Custom ]